2374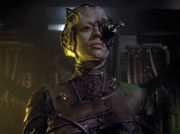 ● [14]
Seven of Nine is chosen to be the Borg representative to the crew of the USS Voyager. She is removed from the collective consciousness while undertaking this task. [14]
● [14]
Voyager defeats a force of 8472 vessels; end of the Borg/8472 war. [14]
● [16]
Voyager's crew undergoes involuntary medical testing by an alien species. [16]
● [17]
Voyager encounters the Krenim, a species who use temporal technology in weapons applications. The encounter passes peacefully. [17]
● [18]
Voyager's EMH relays messages from the ship to Starfleet via an alien communications array. A message to Janeway informs her that her fiance Mark Johnson has married a co-worker. Voyager finds that the Maquis have been wiped out. [18]
● [19]
Voyager rescues a critically ill Hirogen hunter who wishes to finish his hunt against a member of Species 8472. Seven of Nine assist the Hirogen in capturing his pey, against Captain Janewway's orders. [19]
● [20]
Voyager attempts to stabilize some Omega molecules. [20]
● [21]
Voyager's crew are replicated by the Deuterium/metal lifeform on the Demon planet. [21]