So my texturing skills are getting a little better, and I've improved a little in general blendering. Here's the latest version of the design that started it all, the Kororra class battleship. This model took approximately four days to build, from scratch, working maybe five hours a day.
Click an image to embiggen.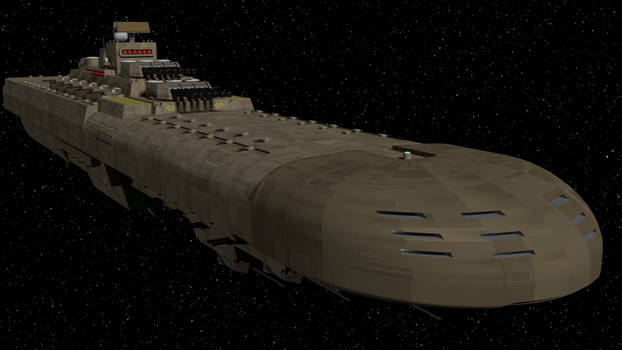 So the pattern I was using for hulls is now replaced. I didn't make this myself, I found a grey version online and modified it a little. It gives the ship a "weathered" look, which maybe doesn't make sense in space but looks good. Also replaced the large number of square landing traps for fighters with wider slotted traps. Don't be fooled by the scale - those traps are each thirty five feet tall and three hundred and twenty feet wide.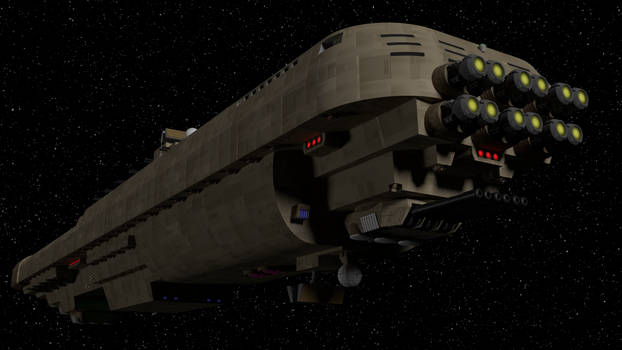 The aft end, with sublight engines. Those are not exhausts; the sublight engines at this point are reactionless. Those are thermal radiators, since the engines generate significant heat. The blue glowing things are tractor beam emitters.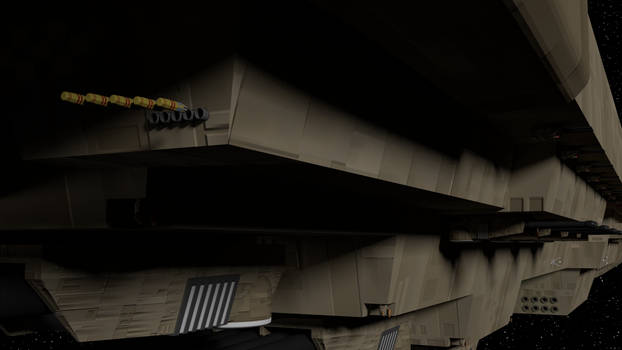 These sections contain ten launchers for kinetic strike missiles, five port, five starboard. One of the guiding ideas behind the Coalition, as I've mentioned before, is to have the Big Ships of science fiction and treat than like truly big ships. Hence behind these missiles are some 14,400 missiles. Each of those carries 54 kinetic strike warheads, for over three quarters of a million in total. Which sounds ridiculous, but remember we're talking about fighting wars where you might need to subdue an entire planet here. If you needed to pacify the entire world, how far would being able to hit 750,000 targets get you? Not that far, right? But then the primary mission of this ship isn't aerospace assault.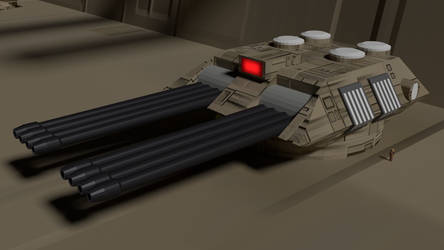 A Mark 2 AMP cannon. This is actually a low resolution version, because there's dozens of these things on the ship and using high resolution versions just clogs the file up like crazy. See the astronaut beside it for scale. Antimatter/Matter Particle cannon fire streams of AM/M in exotic forms, jacketed with fields that allow them to go at high FTL speeds - in the Coalition universe, the further into the future you go, the more exotic (or less grounded) the technology gets. Since they fire AM/M beams, there are two barrels for one weapon. So these are quad weapons. Mark numbers equate to calibre in inches for WWI/II guns, so these are basically 2 inch guns; anti fighter weapons, essentially.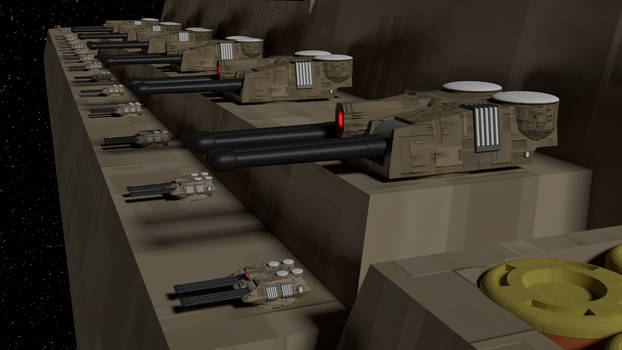 Secondary armament, twin Mark 6 AMP cannon. The red glowing things are rifters, which allow you to go into and out of midspace and thus go FTL speeds. Smaller weapons have their own onboard rifters. Larger ones use off-weapon fixed rifter mounts.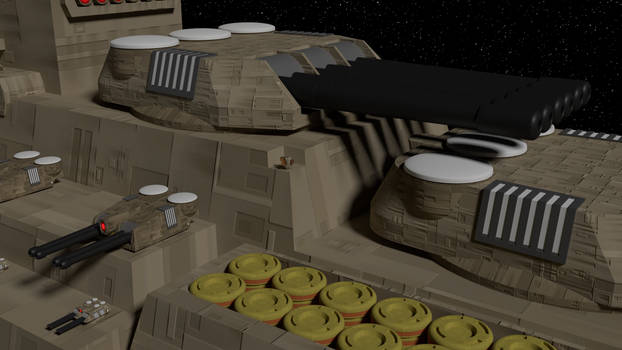 And the big boys, Mark 21 AMP cannon. No rifters here, but you will see fixed rifters spaced around the hull. There are enough so that they aren't a limit on using the cannon - you can point a main cannon in any direction it can point, and there will be sufficient rifters in that direction to fire it. Note on the engine image above, for instance - one aft ventral turret with three AMP cannon; thus three rifters to port, three to starboard, and three aft so that it can fire in any direction. With fixed rifters you need to mount three times as many to get coverage, but it's just not that practical to mount them on the turret when they're this big.
Seven turrets like this around the ship, with three cannon each.
The yellow things are acceleration compensators. The more/bigger of these you have, the faster you can accelerate without squishing your crew flat.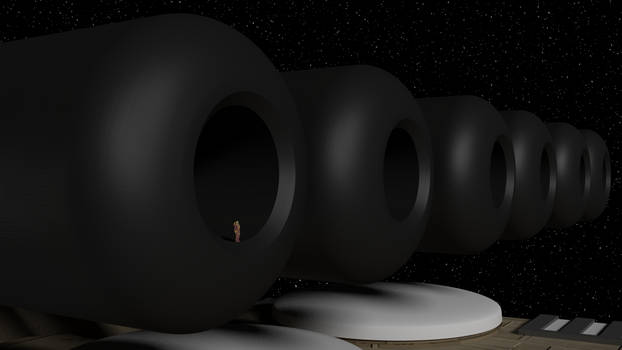 An Astronaut standing in the barrel of a Mark 21 AMP cannon, to give a sense of scale.
And lastly, an old friend to give a sense of scale... not that these two universes actually coexist!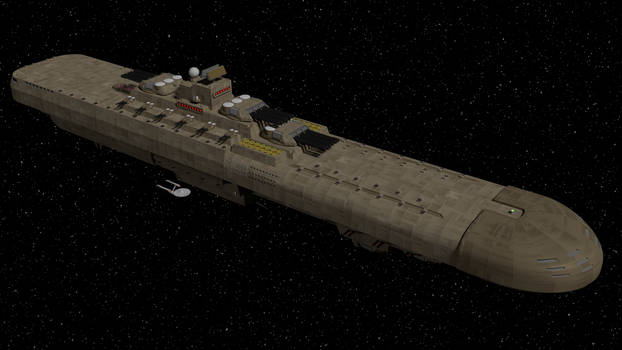 One thing I gotta do is find a better way of doing stars. They look fine... until you zoom right in. Then they look more like little nebulae. Oh well.
Hope you like this.