Going over a few old ship designs and came across
this post
which looked ripe for a blendering. Getting slowly better at texturing, too. What do you think?
Original :
Redone versions. Click to embiggen :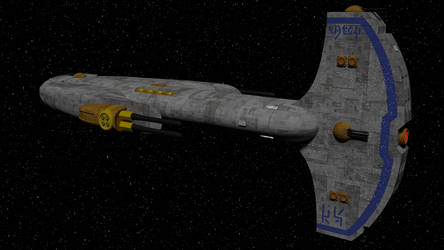 Part of the Coalition universe but from a non-Coalition power, the Gamik class battleship is the primary warship of the Gelch. The Gelch are a militaristic species that resemble anthropomorphic werewolves. They frequently hire themselves out as mercenaries, and so are a common feature of warfare throughout their region of space.
The Gelch are considerably less advanced and powerful than the Coalition. The Gamik class is 2.4 km (1.5 miles) long, mounting an armament of plasma and laser cannon. There are two large AMP cannon, but these are a relatively primitive type; they are fixed forward firing weapons, only able to fire up to about ten degrees off-axis and so quite limited in their arc of fire compared to the turreted weapons the Coalition uses. Nor do the particle streams use the exotic forms of matter and antimatter that the Coalition use, so they have a far lower conversion efficiency and so lower energy release per unit mess of the beam. Finally they are not FTL jacketed, so cannot fire at FTL speeds. In short, these weapons are far less flexible, far less powerful, and far shorter ranged than Coalition AMP cannon.
That said, these weapons are still firing blasts in the multi-hundred-megaton range over distances of light seconds, so they're still armageddon-level weapons. They heavy plasma cannon would be rated closer to a few megatons, the laser cannon a fraction of that.
On the leading edge of the hull there are also HLS (Horizontal Launch System) launchers for 360 missiles. Each is roughly the size of a Russian SS-18 ICBM, 3 metres in diameter by 33 m long.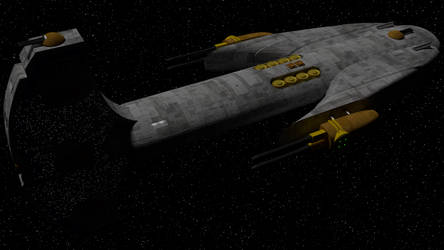 Although at first glance it looks like a "hammerhead", in fact the hull form is designed to fit into the standard 'drivefield' associated with midspace drives in the Coalition universe. The idea is that the drive generates a ellipsoid field around your ship with the proportions 1:2:4. Having elements of your ship penetrate through this field is very bad for your ship's performance. If you check out my Swiftsure and Askad-Amarine classes you will see similar ellipsoid hull forms. As technology progresses the field gets larger and so your hull doesn't need to 'fill' it nearly as closely, allowing you far greater flexibility in your hull form. For the Gelch there's little need for an ellipsoid hull form, but traces of it still remain.
The hammerhead portion of the ship is 1,064 metres (3,490 feet) tall, and has 266 internal decks.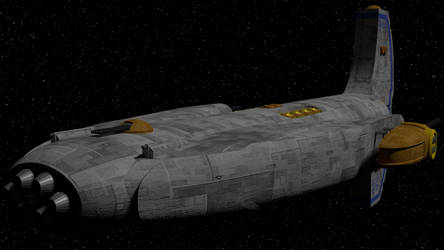 The aft end, showing the sublight engines. Toroidal repellors, which are a step below the Coalition's Propulsor technology. In the Coalition sublight engine technology goes rockets - fusion rockets - repellors - toroidal repellors - propulsors. Much as in the real world naval propulsion goes oars - sails - paddlewheels - propellors. And just like in the real world, the fact that the Coalition has propulsors doesn't mean that's all they use; repellors are perfectly fine for many applications, just as today there are still military aircraft that use propellors instead of jets.
And yes, both 'repellor' and 'propulsor' are really meaningless names, just very generic words with a general connection to the idea of movement. But there's realism to that - a 'propellor' is so called literally because it propels the aircraft or ship forward. It's not uncommon for such generic words to come to refer to very specific items or technologies.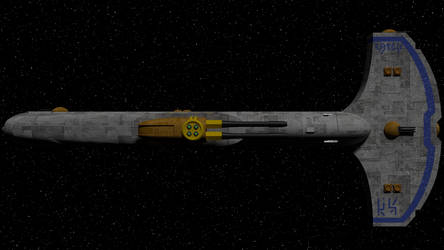 Side view. Note the green glowing things on the AMP cannon; glowing elements of ships are colour coded in the Coalition universe (an aesthetic choice on my part); glowing green indicates antimatter. Note also the Gelch lettering on the hull.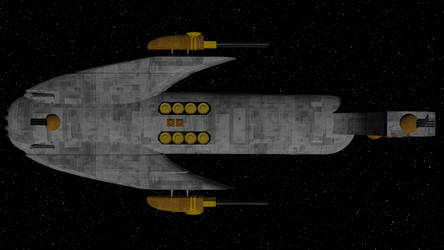 View of the dorsal surface. The round yellow things are acceleration compensators, with forcefield generators between them. The aft plasma cannon turret is flanked by mine launchers.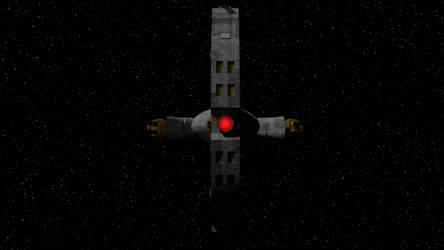 Bow-on view. The glowing red thing is the midspace rifter, which allows the ship to pass into and out of midspace for FTL travel. Missile silos are situated above and below.