AKA this big thing: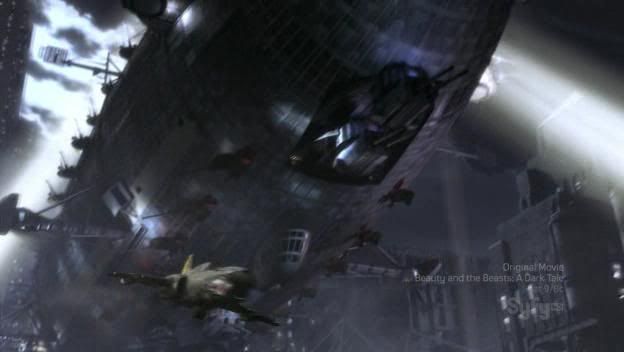 We've seen it hovering around New Cap City in pretty much every episode set there, and it's got quite a menacing presence, with players clearly scared of the thing. Exactly who crews it in the game is a mystery, but given its erratic and usually violent behaviour I'm betting it's under the control of a group of players.
I'm more interested in the craft itself, though. That pic above is the only halfway decent shot of the airship that I've been able to find. The vessel itself (which I've been able to find precisely nothing about, I guess I'm the only one interested in it) is quite unusual for an airship. It appears to be covered in presumably very heavy equipment - weapons, crew quarters, aircraft, and a bunch of other things. It's not just kept floating by lighter-than-air gasses, though, as there is an array of propellers helping to life it up (not visible in the above pic, they seem to be mounted on the craft's spine).
The ship appears pretty heavily armed. Just from the pic above we can see two twin-barrelled cannons mounted on the prow. And while I'm no master of scaling, they look to be a hell of a lot bigger than the fighter visible in the image. We've seen it firing once, but not the result of that damage. Though given the size of the guns I'd imagine they pack a punch. Even assuming that those are the only guns on the ship, that's a fairly heavy armament.
Looking aft we can see what's presumably the cockpit. Nothing particularly special looking about that.
Further aft of that again, just visible behind the right wing of the fighter, is what looks like another twin-barrelled turret. Unless the perspective is throwing it off, it looks smaller than the two on the prow. Presumably it's meant for defending the dirigible against any ground units that might get below it (the heavy cannons may be unsuitable for such a task if they have a high explosive yield).
While the angle and quality of the picture makes it difficult to see, it looks like there may be another, smaller, turret just aft and to the starboard side of that midship turret. If there is indeed one there, there's presumably another one on the port side. It's possible that there're more guns further towards the back of the craft, but I've got nothing to really confirm or deny that speculation. Though given its heavy armament I'd expect at least one gun mounted aft.
On either side of the ship's belly running what seems to be the length of the ship are a series of clamps. From what I've seen, these seem to be the parts the hold the vessel's aircraft complement. Six are visible in this pic, but there may be more further aft.
Looking towards the top of the ship we can see two radar-like masts sticking out on either side. Presumably these are some sort of DRADIS system.
Running along the ship's back we can also see a row of.....things. I honestly can't even guess what these are. Propellers? AA guns? Mounts for more aircraft? Something else entirely?
Two stubby "wings" are also visible on either side of the dirigible. I
think
they mount propellers, but I'm not too sure.
One very obvious shortcoming of using a dirigible as some sort of close air-support vessel is how easy it is to shoot down. Anyone with a rifle could probably tear enough holes in the thing to bring it down. But in New Cap City no one so much as tries shooting at it - and it presumably isn't something that appeared overnight. This seems quite odd, but I think the dirigible may have some form of armour. Looking at its skin in the above pic, it looks to me to have a sort of metalic shine. Is it possible that it's covered in armoured plates, proof against hand-held guns at least? It's the only explaination I can think of as to why no one has shot it down yet - particularly given how much random havok it seems to cause.
All in all, the dirigible carrier seems quite impractical. While it has a formidable armament, it's too slow, large and vulnerable to allow it to do anything a helicopter could. Its fighter compliment also seems far too low to be of any real use - one would imagine that simply setting up an airfield near the front lines would be far easier. Were this craft only seen in New Cap City, I'd question the true existence of such a vessel, but take a look at the show's title screen:
In the top-right you can clearly see a dirigible of similar size and shape, and similarly loaded down with added equipment. While the craft is too far away to be seen all that clearly, I'd put money on it being the same type of craft seen in NCC. So it
does
seem to truly exist. Though for what purpose is beyond me. Any ideas, guys?
Well, since I've run out of stuff to say regarding the dirigible, let's talk about its aircraft. We've seen it deploy two craft. A jet-fighter, as can be seen in the first pic, and a propeller aircraft of some sort briefly seen in
The Imperfections Of Memory
.
The jet-fighter visible above is of an unknown design. It's not a Viper, as it does not have the dual tail-fins that the MK1 Vipers do. What appears to be a bomb of some sort is just barely visible under the starboard wing. Given the vessel carrying it, I'd imagine that this is some sort of ground-attack craft.
Pretty much nothing can be said about the prop-craft, other than that it's armed with a machine gun and is (IIRC) open cockpitted. What's more interesting is that a craft carrying jet-fighters also hauls such obsolete craft around. Are there, perhaps, two seperate (or more) dirigibles roaming NCC? Or do downed aircraft "respawn" as randomised craft?
Another interesting thing is that I can't see of any way for the dirigible to recover the craft it launches. It moves far too slowly for any aircraft seen to dock back to their clamps without some sort of VTOL system (which I doubt either the prop-craft or the jet-fighter have). The idea that the dirigible has some sort of landing strip on its back has occurred to me. Normally such an idea would be pretty rediculous, but just looking at the damn thing shows that critical thinking was on its lunch break when the airship was designed.
So, your thoughts?