From
The Imperfections of Memory
we get a brief glimpse of a combat craft reffered to in dialogue as a "Viper". Given that this model is around more than a decade before the First Cylon War, in which the Viper MK 2 first appeared, this is presumably the first craft in the Viper series.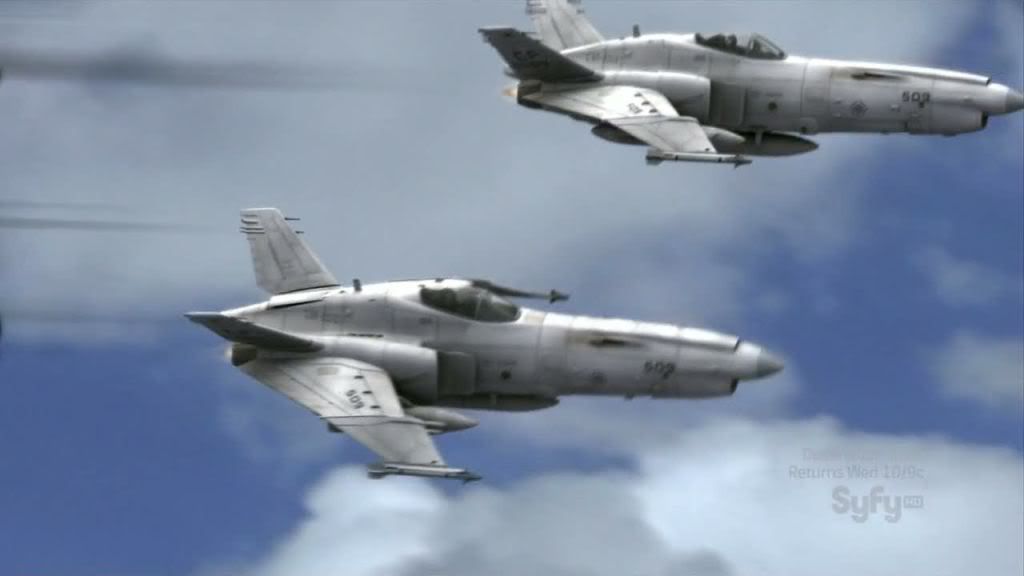 Judging from the large size of the wings and the tail fins relative to later Viper models, it would appear that this model is designed more for aerial combat than space combat. Additionaly, what looks like a jet intake of some sort can be seen under the nose of the craft and just aft of the cockpit on either side of the main hull, further suggesting that it was intended for atmospheric operations. The ship's pilots are (assuming what we see are accurate representations of the gear that the pilots would normaly war) equipped with what are clearly
not
space suits, as they have open-faced helmets and appear to be made of more conventional cloth instead of the material that the Colonials' flight suits are made from during the First Cylon War. Again, this would suggest that it was primarily designed for fighting within a planet's atmosphere. This would make sense given the period in which it was built.
Prior to the First Cylon War and the signing of the Articles of Colonisation, the 12 Colonies were effectively seperate nations. With no central government any sort of large space fleet would be completely impractical even for the relatively rich worlds like Caprica. For less wealthy worlds like Tauron any sort of Starfleet would be impossible to run. Thus it's likely that the only real inter-planetary military vessels around at this point would have been basicaly giant transports, presumably with some basic armaments. Any sort of conflict would likely be based around getting as many troops onto the enemy planet as quickly as possible. Given this sort of strategy it would be logical to design attack craft primarily for atmospheric operations, with any sort of space combat abilities taking a back-seat, if indeed they exist at all.
That said, it should be noted that there are three black dots on each Viper's wing which
could
be RCS thrusters, hinting that at the very least it might be capable of rudimentary extra-atmospheric operations.
We get a very brief glimpse of the cockpit's interior, which is somewhat interesting. From what we can see it appears somewhat more advanced than the Viper Mark 2's (not surprising, given that there was no fear of networked computers at this point), but less advanced than the MK 7's. The craft also appears to be equipped with a DRADIS.
With regards to armament, the Vipers appear to be armed with one small missile on the tip of each wing (they look to me to be quite similar to modern air-to-air missiles), a large bomb on each wing close to the main hull (a DRADIS-guided bomb?) and two machine guns mounted in the nose of the craft. There's also a large cylindrical object beneath the fuselage of the Viper. While this could be a bomb, I think it looks a bit more like a fuel tank.
I doubt that the CGI guys would go through the trouble of rendering a ship in such detail and building a cockpit interior for something that appears for less than a minute, so I'm guessing that we'll be seeing them again. I certainly hope so, because she's a sexy looking plane, if a bit stubby.